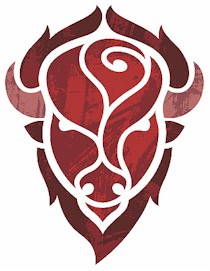 Announcement: Golden Beer Talks take place in the Buffalo Rose event center. This iconic, historic and beautifully curated Golden venue is located at the base of the Howdy Folks arch, at 1119 Washington Avenue.
The Buffalo Rose provides our audience with comfortably expanded seating capacity, as well as a delicious food menu. Local beer remains core to the Golden Beer Talks experience, with two carefully selected brews on tap for every gathering. Additionally, a Holidaily Brewing gluten-free beer option is now available at every gathering. buffalorose.net
September 3rd, 2019
Becky Brice, United States Geological Survey
Topic – Tree rings and snow drought: what trees tell us about our changing snowpack
Snow is not only important for wintertime fun and spectacular views of white-crested peaks along the Colorado Front Range. Snow in the Intermountain West means water. Recent declines in snowpack may be a harbinger for future impact on water supply of the western United States because runoff to rivers and reservoirs is tightly linked to the amount of water present in our snow.
Tree-rings have been used for nearly a century to understand climate of the past, and to situate current climate conditions into a long-term context. Through research, we've learned that trees also record information about the water contained in snow. They provide valuable details about year-to-year snowpack changes and allow us to compare these changes over the past 50 years to those experienced over the lifetime of a tree.
Come to "Tree rings and snow drought: what trees tell us about our changing snowpack" to learn about how trees have been used to better understand snowpack changes in the Four Corners region over the last 300 years and to hear the cautionary tales trees have to tell about future water supplies in the region.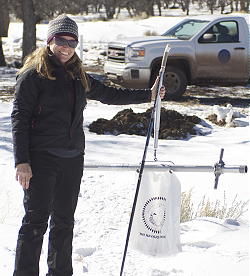 Speaker Bio
Becky Brice lives in Golden and is a research technician at the United States Geological Survey. She is a Ph.D. Candidate in the School of Geography and Development at the University of Arizona and a 2017 Climate Assessment for the Southwest Climate and Society Fellow. Her research leverages the finely detailed information contained in tree rings to focus on climate variability, which controls changes in the Earth's water cycle and hydrologic extremes. Her focus is on water resources and the impacts of climate extremes on the Colorado Plateau.
This Month's Local Brewery
New Terrain Brewing Company
How This Works
The Buffalo Rose will open at 6:00 p.m. Food and drink service will begin at 6:00 p.m. and the program will begin around 6:30 p.m. Following the presentation, we'll take a brief intermission for Q + A. We'll wrap up around 7:45 p.m., but people interested in staying a bit longer to socialize will be able to do so. There is no cover charge and no purchase is necessary.