February 12th, 2019
Claire Zilber, MD
Topic – Immune Responses to Stress and Loss
Claire Zilber, MD, will discuss the physiological effects of acute and chronic stress, including caregiver stress and grief, on immune functioning. She will review ways to protect against the health effects of stress so that caregivers and people in mourning can remain more physically and emotionally resilient. Copies of the book Living In Limbo: Creating Structure and Peace When Someone You Love Is Ill will be available for purchase at the talk.
Living In Limbo: Creating Structure and Peace When Someone You Love Is Ill.
Laura Michaels, JD, MA and Claire Zilber, MD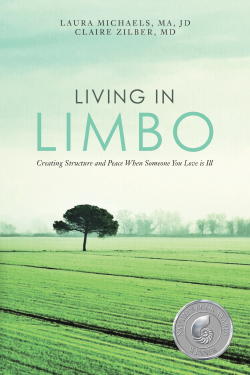 Written for the many people who feel trapped in a state of limbo while they shepherd a loved one through a period of illness, this book weaves together a personal story and a clinical perspective, combining individual experience with professional insight. The story centers on Laura's first-person account of the process of learning about and responding to her husband's grim medical diagnosis, and wisdom learned along the way. Claire's accompanying psychiatric and philosophical commentary provides an intellectual framework for the adaptation strategies offered in the story, incorporating elements of psychodynamic, cognitive-behavioral and mindfulness-based therapies.
Speaker Bio
Claire Zilber, MD, received her BA in psychology from Haverford College, her medical degree from Thomas Jefferson University, and her psychiatric training at the University of Colorado. She graduated from the psychodynamic psychotherapy program at the Denver Institute for Psychoanalysis. In 1992, she founded the HIV/AIDS Mental Health Program within the Infectious Disease Clinic at University of Colorado, which she ran for 18 years. Dr. Zilber is in private practice, is a clinical assistant professor in CU's Department of Psychiatry, and is on the faculty of the Professional/Problem-Based Ethics program at the Center for Personalized Education for Physicians. She has served as Chair of the Colorado Psychiatric Association's Ethics Committee since 2003, and has also served on the Ethics Committee of the American Psychiatric Association (APA). She is a Distinguished Fellow of the APA, and writes a monthly professional ethics column for the APA's newspaper, Psychiatric News. She is co-author of the book Living in Limbo: Creating Structure and Peace when Someone You Love Is Ill.
Brewery
We are pleased to be hosting a Golden brewery for our February meeting–more information to follow!
How This Works
Food and beer will be available at 6:00 p.m., with our speaker starting around 6:40 p.m. Following the presentation, we'll take a brief intermission for Q + A. We'll wrap up around 7:45 p.m., so that the cafe can close by 8:00 p.m. There is no cover charge and no purchase is necessary.