September 13, 2016
Speaker – Ken Regelson

Topic – 100% Renewables? Let's Go!

In a world of boring, heavy, complex information about energy and climate change, Ken's talks are a breath of fresh air – fun, upbeat, quick, and clear! This talk will cover renewable energy cost and comfort, as well as strategies for transitioning to 100% renewable energy—or darn close. Other topics will be electrifying cars and the surprising changes in the last year that may indicate a tipping point for renewable energy.
Speaker Bio: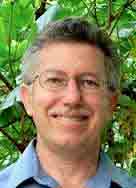 Ken Regelson is an energy policy analyst, storyteller, and a clean energy advocate. As the founder of EnergyShouldBe.org, (meaning Energy Should Be News), he makes short videos encouraging action toward a 100% renewably-powered world by 2035 – videos with more than 95,000 YouTube views. Regelson has many awards for his work in renewable energy and a Masters Degree in electrical engineering.
Here's how this event works:
Official open is 6:00pm, and those eager to stake a table are welcome earlier, as the cafe is open beforehand. As always, no cover charge.
Food and beer will be available at 6:00pm, with our speaker starting around 6:40pm. We'll take a brief intermission at 7:00pm, with Q & A starting at 7:15pm and wrapping up around 7:45pm..