October 9, 2018
Title:  Applying Geological Exploration Methods Towards Locating Clandestine Graves Related to Homicide Investigations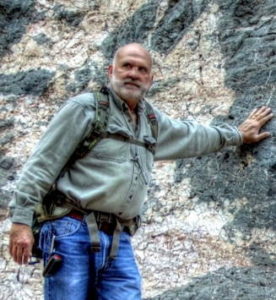 Description: In 1988, NecroSearch International, a non-profit organization, was founded to provide the international law enforcement community with scientific assistance in locating clandestine gravesites related to homicides.  Thirty years later, NecroSearch has assisted police and district attorneys with more than 300 cases in 40 states on four continents.  Jim's presentation will describe how that multi-disciplinary expertise of NecroSearch volunteers (e.g. anthropology, botany, criminalistics, entomology, geology, geophysics, meteorology, psychology, etc.) have been applied towards solving crimes.
Speaker Bio:
Jim Reed is the Director of R&D at RockWare, Inc, a geological software development and consulting company with offices in Golden, Colorado and Lugano, Switzerland.  Prior to founding RockWare in 1983, Jim worked at NASA, Arch Coal, Freeport, AMAX, and Wold Minerals.  Jim received his geological education at the University of Wyoming and Washington University in St. Louis.  He is currently a councilor with the Colorado Scientific Society and a volunteer with NecroSearch International.  Over 30,000 individuals, corporations, universities, and government agencies on all continents use Jim's software products.
See: www.youtube.com/watch?v=rM1eCk0UeTg
How This Works
Food and beer will be available at 6:00 p.m., with our speaker starting around 6:40 p.m. Following the presentation, we'll take a brief intermission for Q + A. We'll wrap up around 7:45 p.m., so that the cafe can close by 8:00 p.m.  There is no cover charge and no purchase is necessary.