Topic – Peaks to Plains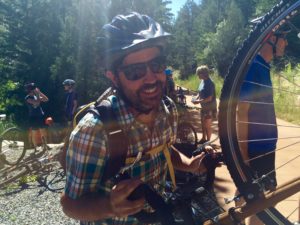 The 65-mile Peaks to Plains Trail will one day connect the 2.5 million residents of the Denver metro area to the Continental Divide at Loveland Pass via a 10-foot wide trail.  It will bring visitors to the water's edge, meander along a steep canyon walls and raging rapid in a one -of-a-kind experience.
The area is home to the federally protected Preble's meadow jumping mouse, cliff-nesting raptors, and big horn sheep–but also rafters, kayakers, anglers, gold panners, rock and ice climbers. It is soon-to-be a place where hikers and cyclists will be able to enjoy a world-class recreation experience.
Come learn about the successes and challenges of working in harsh, Colorado-style conditions, to realize a decades-old vision of a trail with an elevation drop of 5,600 feet from the Continental Divide, deep into the densely populated Denver metropolitan area.